Travel Schlepp and the Pyramids of Egypt
Last December Debbie, Karl, and I were scheduled to go to Austria and work with the United Nations people again. But at the same time there was a fellow in Egypt who wanted to see us. He works for the World Bank and an organization called ICARDA. So we flew past Vienna all the way to Cairo to meet with him. We are building a Web site for him that helps people in the Middle East share information about using water efficiently for agriculture in the desert.

While we were getting over the jet-lag the first day, we had enough time to see the famous Cairo Museum of Antiquities, the Pyramids, and the Sphinx.

But after that, we had to work. Here's a photo of me working on my report. The Nile River flows in the background. I could watch barges and fallucas (Egyptian sailboats) go up and down the river all day and at night.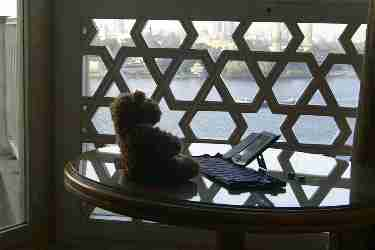 Here's a view of the fallucas sailing below our hotel window at night. The beautiful swimming pool was too cold to use. Even the desert of Egypt in December is pretty cool.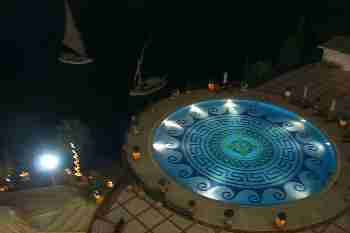 And this is Debbie and I in the office of her hotel suite. I'm sitting on the desk to the left of her computer. We would work every evening here to get ready for the next day's meetings.