Ireland, Part 2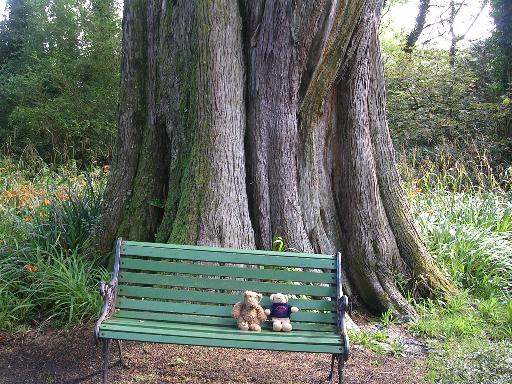 The gardens at Glanleam House are amazing: huge old trees, giant tree ferns, tropical plants found nowhere else in Ireland.
Here Willie and I rest on a bench while touring the gardens one morning.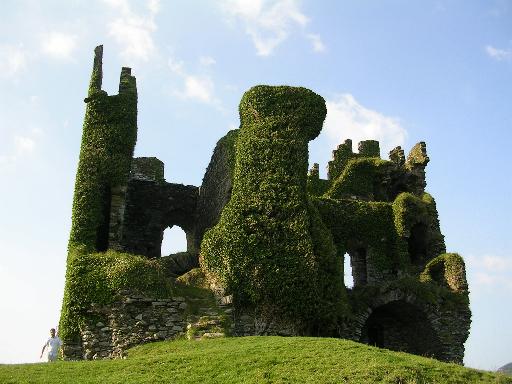 Our first and probably favorite castle, Ballycarberry across the bay from Knightstown and Valentia Island.
We stumbled upon it when we went into Cahirciveen. Some people on the Web report this as run down and inaccessible,
but we found it cleaned up with stairs over the fence, interpretive signs, and wonderful fun to wander around in.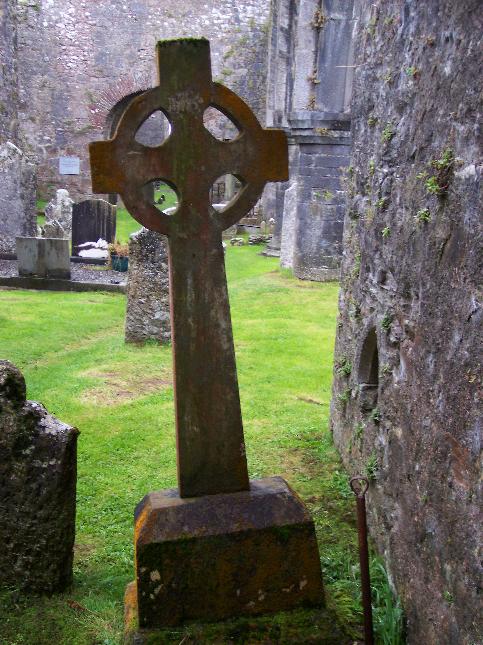 As we headed east from Valentia Island, we found Farran House and across the valley, Kilcrea Abbey and Castle.
The Abbey was accessible, lit at night, and thoroughly enjoyable. The Castle was across a wet field, past a muddy moat made by cattle, and up four floors.
Amazingly, the stairs and roof were all intact.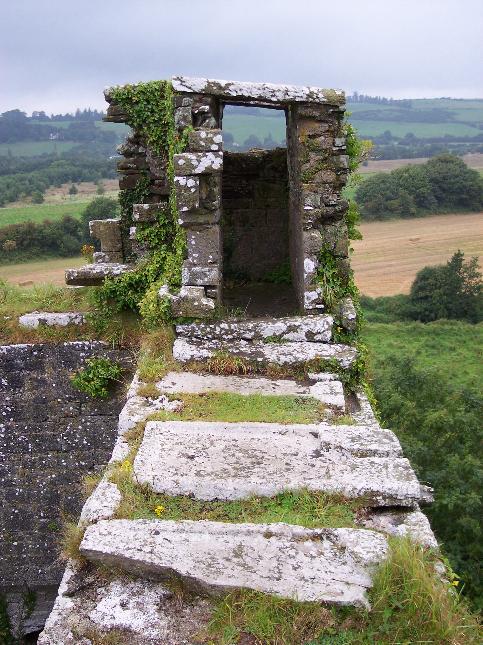 The view from the battlements was amazing, even on a cloudy day. It was 70 feet to the ground.
Later we learned that only about 15% of the visitors who go to the Castle reach the top.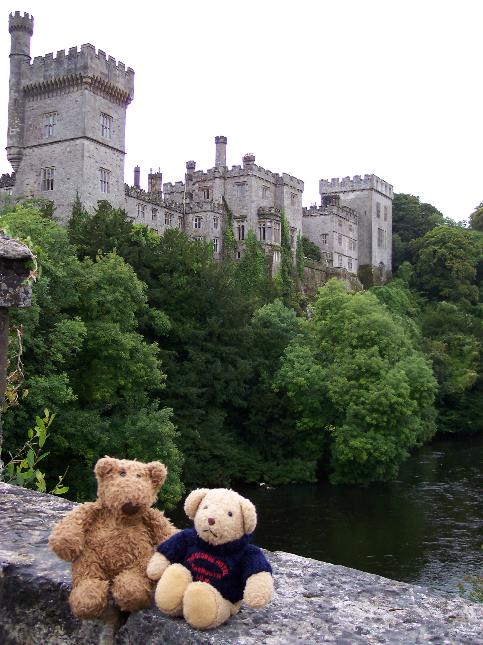 This is the Duke of Devonshire's Castle in Lismore. Only the gardens are open to the public but the view from the bridge showed one of the best skylines we'd seen.
For some strange reason, it was always raining over the Duke's castle... hmmm??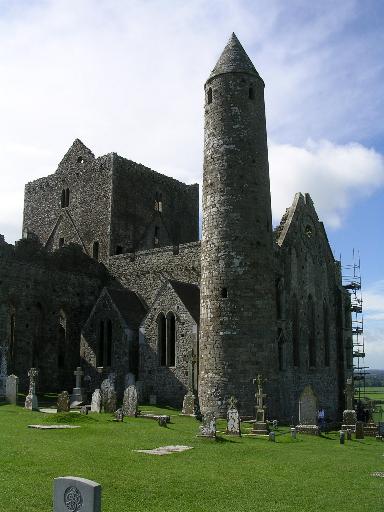 This is the back of Cashel showing its round tower and massive cathedral, built centuries later.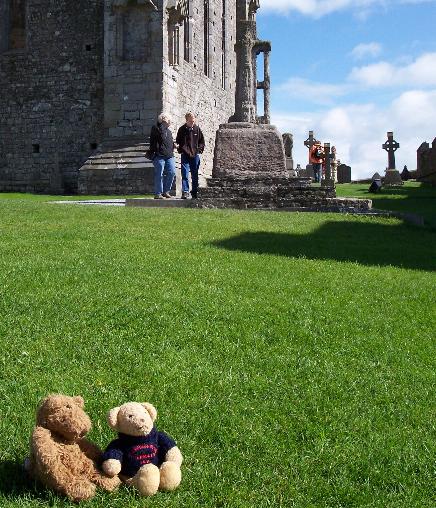 At the Rock of Cashel, you can see St. Patrick's Cross, just behind us. The left side is broken off but its still impressive.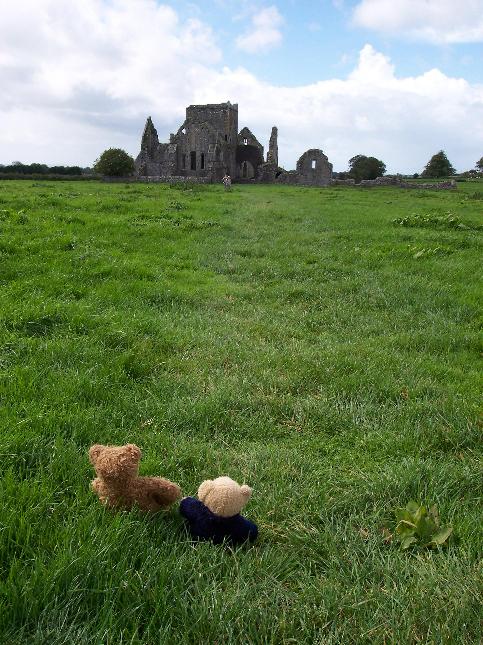 From the Rock of Cashel, it was a windy, cool walk down the hill and across a meadow to Hoare Abbey.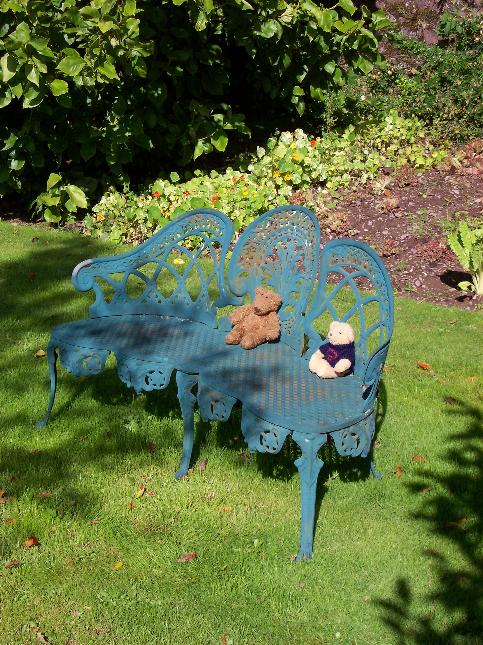 Later at Ballyvolane House, we could enjoy their smaller but very well done gardens, Fresh salad greens came from the beds behind this bench.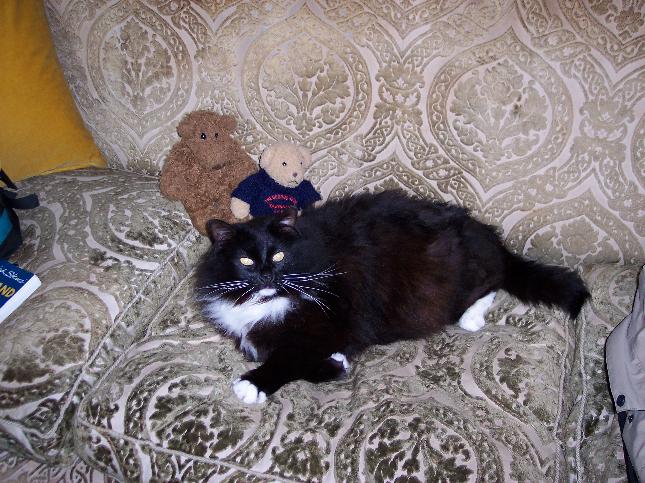 At Ballyvolane House, we met Archie, a truly amazing cat. He was HUGE! To get him upstairs, he only took two steps before pausing for breath.
As you can see, the furnishings were marvelous and food was always excellent.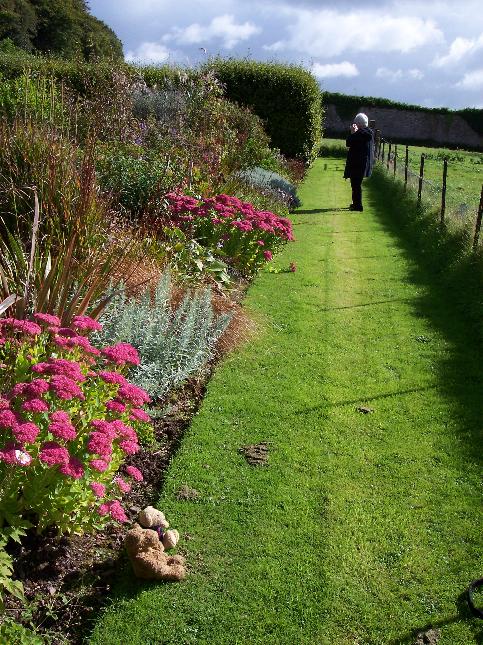 Here we watch Caro as she photographs some of the late season flowers at Ballyvolane.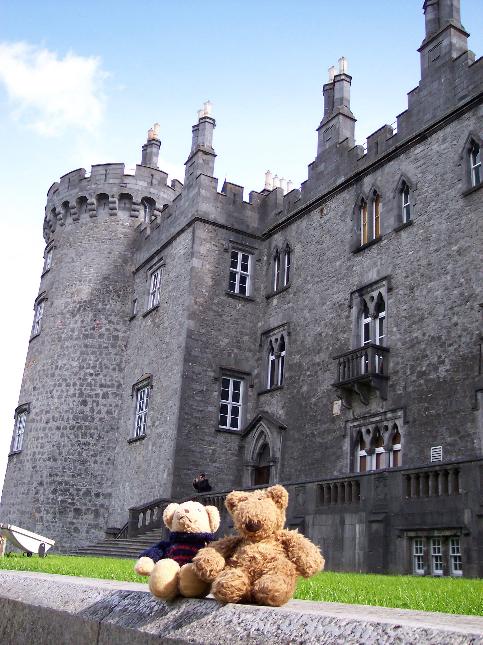 While at Mobarnane House, we devised a cunning plan to visit Kilkenny, Woodstock, and another museum, all in one day.
Here we are at the back of the grand castle in Kilkenny, restored recently after being damaged in "the troubles."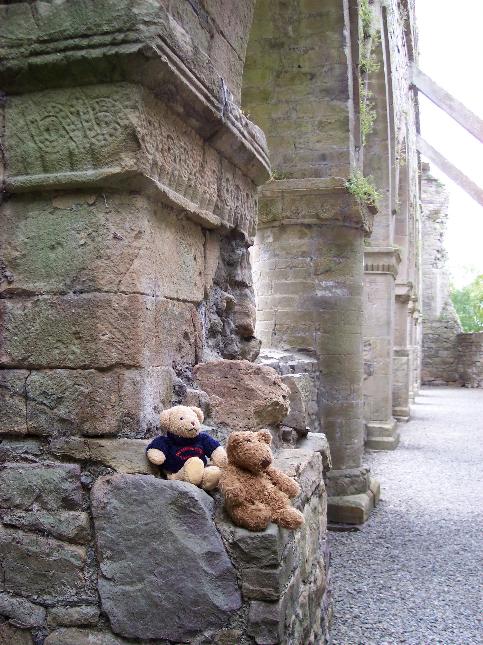 As it turned out, we had an unplanned stop at Jerpoint Abbey and we really enjoyed it.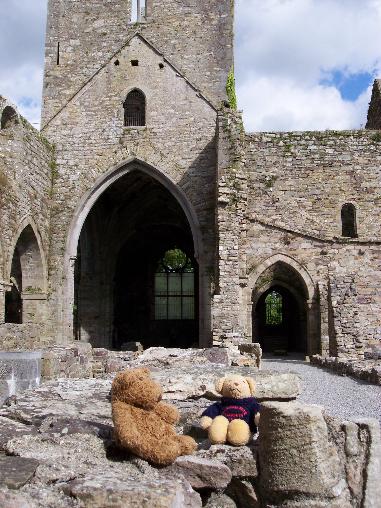 Jerpoint was one of the surprising highlights of our trip, with wonderfully restored features, ancient crypts, and marvelous history.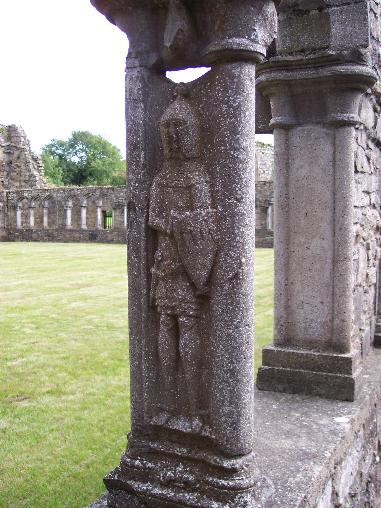 This is one of the many carved columns that run along outside of the inner courtyard.
Behind it is a blank column where restoration has rebuilt the wall. Someone somewhere stole the column decades or centuries ago.
Jerpoint staff continue to track them down and, when possible, restore them to their rightful place.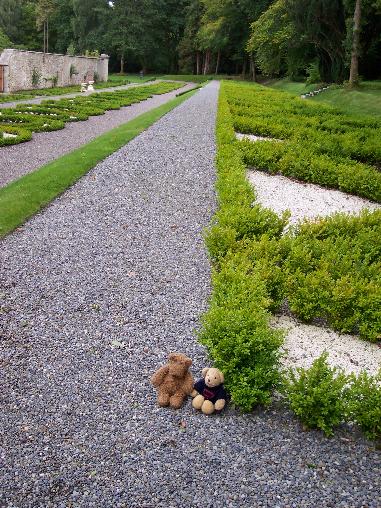 Our last stop on our last day were the gardens at Woodstock. Wonderful plants and paths wound through the landscape in the late afternoon.
We particularly liked the avenues of giant Araucarias and Noble firs. Here we are in one of the formal pathways set with dwarf boxwood.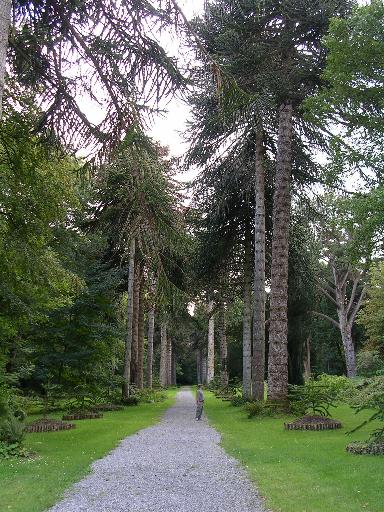 You can see how large these Araucarias are compared to Karl. There is an entire avenue of these ancient Monkey Puzzle Trees at Woodstock.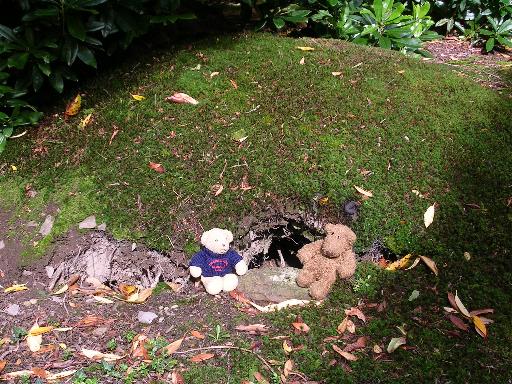 Ireland is a magical place. Willie thought he had found a Leprechaun lair one day, but it turns out he had only found a "Schlepprechaun" burrow.


The saddest part of any trip to Ireland is that it must end. The day after this we had to drive from Mobarnane House, around Limerick to Shannon Airport.
From their we flew home, taking with us our memories of a wonderful country.